Since there's no one size fits all when choosing a business bag, the choice depends on who's carrying it. For instance, a tote might not suit businesspeople commuting via bike. Also, a backpack might not be the best choice for executives.
Young executives should carry a business bag that reflects their status and complements their clout. Having a bag that can carry all of your important things in a subtle but classy way can be influential. Investing in yourself and allowing your style to speak for your accomplishments is a skill that you'll need as you climb the success ladder.
If you're out there wondering which bag would go well with your high-level position, read along to find out.
1. Premium Leather Briefcase
In business, you don't want to seem like you're cheap or not investing in yourself, as it demonstrates you aren't taking it as seriously as a potential client might like. That's why choosing a premium quality briefcase, such as a Von Baer briefcase is so important.
They're made from premium quality materials like full-grain leather, which won't degrade like cheaper options, so you can have a long-lasting work bag that's going to reflect your personal style.
Briefcase from Vonbaer.com
2. The Filson Leather-Trimmed Briefcase
The Filson is among the most popular bags for private styling clients. It's water-resistant to keep your gadget safe, while the leather trim reveals the executive in you. This bag can hold a laptop up to 15 inches and has plenty of pockets to hold your small items, such as chargers and pens.
The Filson Briefcase comes in different colors for you to choose from. Therefore, selecting a color that fits your vibe and style won't be challenging. Additionally, if you work in extremely wet climates, Filson offers completely waterproof leather bags to ensure extra protection for your gadgets.
3. Montblanc Sartorial Ultra-Slim Briefcase
If you're the kind of person who's into minimalism, an ultra-slim briefcase might be the ideal business bag for you. Though it might not be compared to an actual legal briefcase, a soft, slim briefcase such as the Montblanc Ultra-Slim briefcase made of leather can hold a small laptop and other belongings like pens.
This bag comes with a detachable shoulder strap that's easy to remove if you want to go hands-free.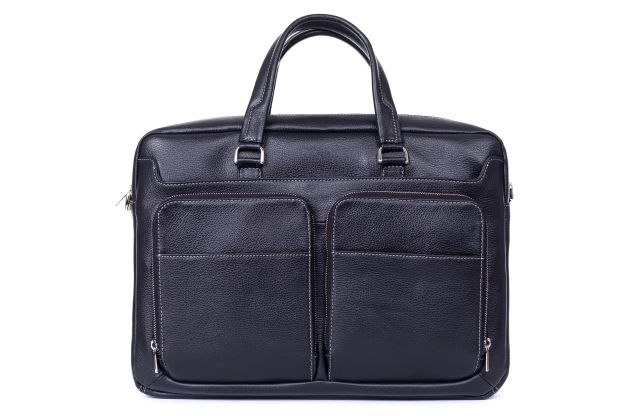 4. Metropolitan Slim Brief
This bag can hold a 15-inch laptop and has zipped pockets to hold a phone and other essential documents. It also has side pockets ideal for quick access to passports, business cards, or plane tickets. Metropolitan Slim comes in black and rich brown colors to fit different individuals' tastes.
Regardless of your age and position, nothing reveals your style better than an all-leather bag. The Metropolitan Slim Brief is made of soft calf leather, so it's among the most durable business bags.
5. Coach Rogue Brief
The Coach Rogue can carry a 13-inch laptop and other essentials since it has several pockets stitched to the interior canvas. It also has mustard yellow suede slip sleeves that pop the color from the inside-outside. This bag keeps the appearance as professional as possible.
With Coach Rogue, you don't have to choose between a brief and a tote. This bag has the attitude of a tote and sharp edges to go with a brilliant style.
6. Tiger Of Sweden Black Buccan Briefcase
Tiger of Sweden Black Buccan is a silky, smooth leather bag worthy of an executive owner. It has two main compartments to fit a laptop and other necessities. It also has a detachable leather strap so that you can go hands-free anytime you wish.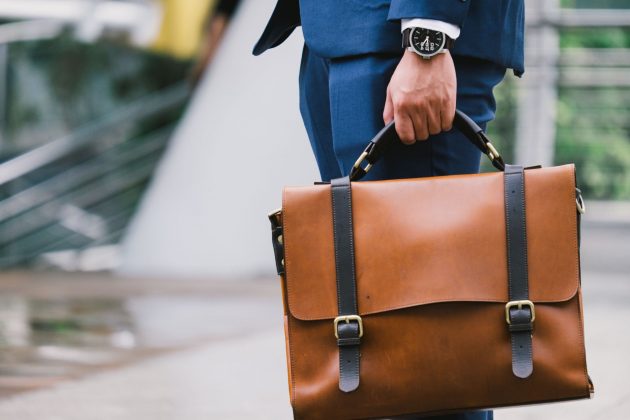 7. Tumi Alpha Slim Deluxe Portfolio
For those who want to carry a lot without showing it, this portfolio suits them better. It has a laptop sleeve, card slots, a key slip, and pen pockets. With such a bag, you can carry everything you need for your job without struggling.
The Deluxe Portfolio also comes with a convertible back slip pocket, so you can change its form and function within a second. Made from water-resistant nylon, this bag gives your gadgets maximum protection.
8. Ted Baker Machu Crossgrain Bag
This satchel combines a leather handle, a deep gray body, and an understated metal buckle to enhance your executive position. It has a top flap sheltering a simple interior with three pockets and an additional zipped back compartment for easy access to your essentials. This bag is even better because it can go well with suits and casual outfits.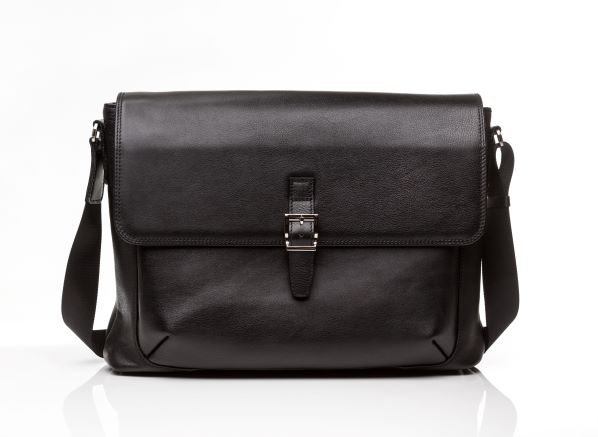 9. Burberry Black London Check Ainsworth Briefcase
This bag is a visualizer of success; the more you own the bag, the fewer things you need. On days when you require a tote more than a portfolio, this bag is all you need. It has a zip-close to secure your belongings while adding to the elegance.
10. J-Crew Boarding Pass NYC Flight Briefcase
J. Crew has been among the most prominent brands in men's fashion, and for that reason, they designed a Boarding Pass NYC Flight Briefcase to suit every executive's needs.
It also has ample internal space and some outer pockets for better organization. The laptop sleeve is padded, and it's available in two different colors; gray and brown and all-black.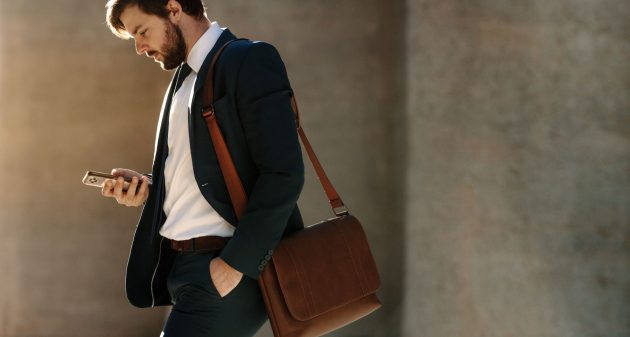 11. Killspencers Esquire Briefcase
If you can't take your eyes off an all-black business bag, the Killspencers Esquire Briefcase might be the ideal bag for you. The bag is created with full-grain leather, and there's no additional treatment done to the leather besides hair removal. This means that the end result is as pleasing to the eyes as it is to the touch.
The Killspencers Esquire Briefcase is built to last for years without the need to replace it. This bag is spacious enough to hold a laptop and other essential gadgets.
Conclusion
Choosing the right business bag might not be easy. However, the choice should be based on your kind of work, your commuting option, and your position at work. Here, we've provided you with different types of business bags suitable for young executives to help you choose better.
Also, the bags listed above have a different holding capacity for different needs. If you're the kind of person who carries a lot or less to work, you can get a stylish bag to suit your needs while enhancing your executive appearance.