When it comes to bras and lingerie, finding one that fits your body best is perhaps, one of the critical things one should consider. But aside from determining the right size, various factors can also make the undergarment piece you're eyeing the right one. For instance, it has to be comfortable when worn and give your body the support it needs. 
While finding the right bra that fits and suits you best can be overwhelming, it's not impossible. With some tips and tricks, you can be easily guided to find the perfect undergarment pieces for you. As such, here's a list to help you get started.
Know Your Size And Body Type
Much like shopping for clothes, getting the right size of undergarments also matters. This includes your cup and band measurement. It'd be good to note that not all bodies are the same. For instance, if you're on the curvy side, wearing bras for small busts may not give you the proper support your body needs, and vice versa. And as such, your body can certainly benefit from wearing a bra that perfectly fits your body. However, surveys suggest that about 80 percent of women tend to wear the wrong size. It's either they're wearing a size too small for them or one's bigger.
It's normal to feel overwhelmed when determining your size. But, that shouldn't discourage you or intimidate you. By knowing your size, you can be off to a good start in finding the right bra that could offer you comfort, support, and even complement your body figure. After all, wearing one that fits your body perfectly can be a gamechanger.
So, to help you, there are ways for you to determine your size. For one, you can have your bust professionally measured for a more perfect and accurate fit. And on the other hand, you can also take measurements at home with a tape measure.
To successfully measure your cup and band size, you'll require two measurements: around your torso and under the bust for the band size, and around the back and over the nipples for the cup size. Once you have that, subtract the difference. For instance, if your bust measurement is 35 inches and the under-bust is 32, you'll be a 32C since 35 minus 32 equals three, corresponding to the letter 'C' in the alphabet.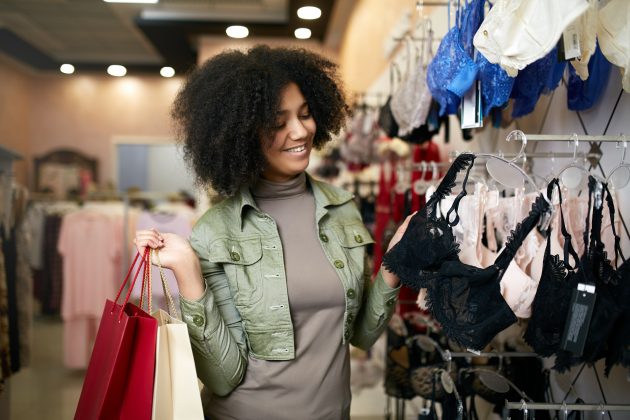 The Band Should Be Comfortable
While cups help ensure that your breasts stay in place, the band is responsible for the entire support. Though most people think that straps' job is to hold up the bust, they also exist to shape the breasts. A rule of thumb to note is if your cup and band fit well, you can slip off your straps and walk a little with your bra in place.
In addition, when looking for the right bra, it should be possible to fit a finger under its band. If the bra's underwire is digging into your body, it could be a sign that the bra is too small for your frame. More so, the band shouldn't be too loose either. While most people assume loose is comfortable, it doesn't apply to bras. As earlier stated, the band is responsible for holding up the breasts. Therefore, a loose band means less support and less comfort.
To ensure the band fits for a longer period, begin by wearing the bra from the loosest hook. As it starts to wear off, you can move to the second or third hook for more grasp.
Assess The Bra's Material
Assessing the bra's material is another tip to finding the right bra. Luckily, there are various bra materials available on the market. For instance, you can get bras made of Spandex, cotton, Latex, Spanette, Tricot, satin, nylon, foam, mesh, polyester, microfiber, and lace. Therefore, you can effortlessly get a comfortable bra as far as material is concerned.
Nevertheless, you shouldn't only consider the outer fabric of a specific bra. It's also essential to think about the material used for the under cups. Most bras in the market are sold with underwired cups, which might work differently for different individuals. If you feel that underwired bras cause you discomfort, you may choose the wireless ones as they are mostly made out of fabric.
While settling on a specific bra type is a personal choice, it is best to consider the support and functionality without compromising your comfortability.
Pick A Color And Style That Matches Your Wardrobe
Different outfits and activities may require different undergarments. So, when choosing the right bra, consider matches and complements your wardrobe.
Fortunately, countless bras come in different colors and styles, making blending and complementing outfits easier. For instance, nude bras can go conveniently well with every outfit. They are versatile as they can complement your skin tone, making them ideal for wearing with every kind of top, even bright-colored ones.
On the other hand, black bras are also a must-have for every lady as these can go well with black, brown, and other dark outfits. Additionally, a black bra could ensure that there will be no color-popping between fabric fibers.
You may also consider purchasing strapless bras to wear with fancy outfits. These bras come with removable straps and have a snug fit. And last but not least, consider picking up some sports bras, especially if you're a gym enthusiast. Sports bras are designed to provide excellent support, protection, and comfort during workouts.
Before purchasing any bra, consider your wardrobe and activities a good tip to remember. A bra blending well with the outfit is always right, regardless of its value.

Conclusion
Finding the right bra may not always be a walk in the park. However, with enough information, it can make the experience less challenging. All you need is to figure out the right size, suitable material for comfort, the kind of bra to wear with different outfits, among other things.
And with the above information, you're more likely to choose the right bra to ensure style and comfort whenever you're in it.