The skin is the largest organ of the body, protecting you against pollutants, ultraviolet (UV) rays, and toxins. Thus, taking care of this precious part of your body is reason enough to commit to a solid skincare routine.
Unfortunately, most people fall into bad habits and mess up their otherwise normal skin by making common skincare mistakes. If you've never had a skincare routine before, here are some newbie skincare mistakes that you need to avoid. 

Using The Wrong Skincare Products
The skincare industry is booming. As a result, your skin care product options are vast, which can be quite confusing. If you walk into a pharmacy or department store or browse through online shops, you'll be faced with hundreds of options—from everyday cleansers and moisturizers to anti-aging serums. If you want to see the products commonly offered by these shops, you can check over here.
That said, you don't want to buy the first skincare product you see. You need to do your research and choose the right skincare products for your skin. Choosing the wrong ones may cause unwanted skin issues such as irritation and dryness or aggravate current skin conditions you want to resolve.
The most important thing you need to understand when choosing the right product is your skin type. Whether you have oily or extra sensitive skin, figuring out your skin type can help you find and create a skincare routine that suits your specific needs.
Also, it would help if you considered your goals for using skincare products. Do you have dry skin? Then choose deep moisturizing products. If you have sensitive skin, look for natural, organic ingredients. For oily skin, avoid products with comedogenic ingredients that block pores and cause acne breakouts.
Not Cleansing Properly Or Forgetting It Altogether
With new serums, masks, moisturizers, and other skin-nourishing products, as well as makeup products popping up every day, people sometimes forget about the most crucial part of any skincare routine—cleansing.
Washing your face helps eliminate sweat, oil, dirt, and makeup that accumulate on the surface. When you cleanse your skin, make sure to do it properly. Don't just splash water on your face or rely on face wipes before sleeping at night. If you're not cleansing the right way, the next steps in your routine won't be as effective.
If you're using heavy makeup, consider doing a double cleanse, which means having a second round of cleansing to unclog your pores. Also, consider doing some exfoliation while you're at it. 
Over-Cleansing And Over-Exfoliating
Washing your skin is essential. However, overdoing things can also be problematic for your skin health. Over-cleansing, especially when using a harsh product cleanser, can strip off natural oil from your skin, causing dryness and tightness. Try washing your face at least once, maybe twice a day—once in the morning and once before going to sleep.
In addition, over-exfoliating by applying face scrubs and chemical-based serums every couple of days is also a mistake. As with washing, exfoliating can help remove stubborn dirt and dead skin cells. However, don't get carried away with exfoliation, as the constant buffing can cause redness and irritation.
Consider scaling down your exfoliation routine to once or twice a week, or three times a week if you're using gentler formulas.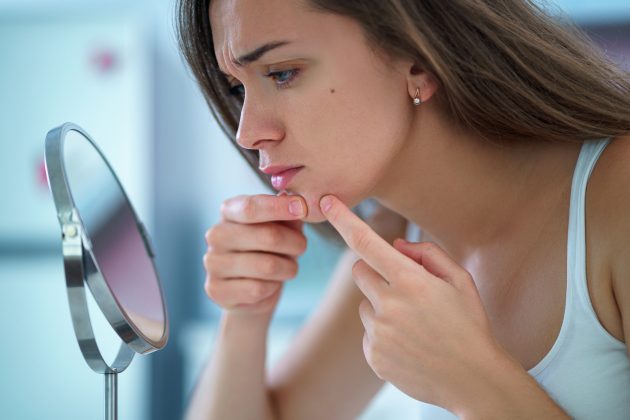 Picking At Or Scratching Your Skin
While it's tempting to pop that big zit on your nose, or it may feel so good to scratch an itch, picking at any blemish or scratching too hard can leave long-term damage.
Your skin can scar very easily, leaving behind ugly spots that can be worse than the initial damage. Plus, attacking a breakout or itch can further inflame the skin or spread bacteria that could cause more issues in the surrounding skin.
Not Using Sunscreen
Did you know that exposure to the sun increases your risk of skin cancer and premature skin aging?
This is why sunscreen is one of the most critical elements of any skincare routine, irrespective of your lifestyle, preference, age, skin color, or gender. In addition, a lot of skin issues, including acne, hyperpigmentation, wrinkles, and fine lines, can be reduced with regular sunscreen use.
Even if you don't pay much attention to your skin, wearing sunscreen is the most basic routine you shouldn't neglect.
Takeaway
When it comes to your skincare routine, there are many areas where you can do wrong, throwing off your whole skincare routine and preventing you from seeing your desired results. By avoiding the common skincare mistakes mentioned above, you can get off to a better start toward a flawless complexion.