You've hit a fashion rut. Everything in your closet is old, bland, and out of style. Yet, you don't have the budget for a full-fledged shopping spree. Fortunately, you don't have to spend money to refresh your wardrobe. Sometimes, all it takes is a little resourcefulness.
With the right tools and a little patience, you can turn your wardrobe redesign into a fun project. The following tips will allow you to have some new clothing, without going out and actually buying them. What's more, they'll come with the same (and perhaps even more) satisfaction as a brand new piece.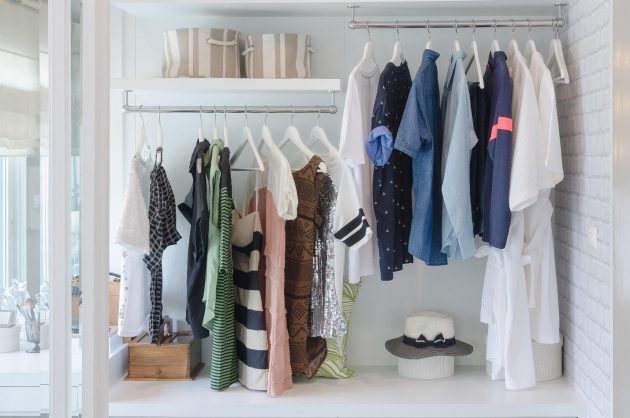 Cut, tuck, and roll
All you need for this is a pair of scissors and some precision. Changing the cut of a top or a pair of pants can make all the difference – and sometimes you have to take matters into your own hands. With summer around the corner, considering turning that dusty, faded pair of jeans into some denim shorts.
When you do cut the hems of your clothing, make sure to keep it even. Fold them to the point you wish to cut, use a ruler to ensure you have a straight line, and outline the hem in sharpie. If you're cutting a pair of jeans, leave a couple of inches to roll the hem up.
From there, snip away!
An evenly cut hem will make all the difference, and will keep your clothing restoration from looking sloppy. If you do this with shirts, skirts, or other softer fibers, you'll need to sew up the hem to prevent it from fraying.
You don't have to completely chop up your clothes to give them a different look, however. Sometimes, simply rolling or tying up a top can give it a difference appearance. Tucking can achieve the same effect.
Refresh your handbags & shoes
Those old leather handbags and shoes deserve a second chance. Rather than investing in new ones, which can cost anywhere in the $100-$200 range, spruce up your existing ones. First, clean them down by using a warm water and soap mixture. Clean between the seams, heels, and other nooks and crannies with a toothbrush.
Make sure to let your shoes and handbags dry properly before moving on to the next step, which is spot treatment. By using some leather oil and a blow dryer, rub out any scuffs or scratch marks that are diminishing the leather's sleek appearance.
Now, it's time for the dying process. You may want to change up the color of your handbag or shoes here, which is fine. What you'll need to do first is invest in a leather dye kit which often comes with a color stripper. Rub the surface of the leather thoroughly with this to strip it of as much of the previous dye as possible.
The color you'll choose to upgrade to shouldn't be too far off from the current one. For example, turning black leather shoes turquoise is wishful thinking. However, turning brown leather shoes into a rich burgundy is certainly possible.
When dyeing, make sure to apply two to three coats, and always let the shoes or handbag dry completely between coats. Apply the dye with a sponge, which should come with the kit. If not, an ordinary makeup sponge will do.
Lace it up
You can never go wrong with lace. Popping on some lace to any article of clothing will give it an adorably chic vibe. If you've got an old crop top you want to elongate, throwing some sheer lace on the bottom will give it an elegant and more versatile appearance.
Similarly, adding lace to the bottom of a short summer dress or skirt gives it an awesome peek-a-boo look. If you add enough lace to turn it into a maxi skirt, you're sure to nail the bohemian chic aesthetic.
Lace is also great for transforming your sleeveless tops. Adding some lace sleeves will bump up the elegance, while also turning an ordinary top into a blouse. If you want to turn your casual clothing into something a little more professional, adding lace to the rough edges will absolutely achieve this.
Belt & bedazzle
Okay, so maybe bedazzling is a little out of style. However, that doesn't mean you can't add a little touch of flash here and there. A simple belt can be a great way to do this. All at once, it can turn a top or cardigan into a cinched waist, while also serving as a gorgeous accent.
Wide, decorative belts can turn baggy blouses into stylish slipovers. Pop one onto the waist of a plain black or white maxi dress, and you can go for a whole other aesthetic. Narrower belts accent cardigans and button-up tops beautifully, achieving a business casual look without too much effort.
You can also subtly bedazzle some of your pieces by swapping out plain plastic buttons for ones with a little shine and shimmer. There's no reason you can't make beautiful accessories a permanent part of an article of clothing. Get creative.
If at first you don't succeed, dye, dye again
Maybe you love the cut and form of your staple pieces, but are just sick and tired of the color. Well, that's no cause for alarm! Take note, however, that this is really only possible with making light-colored clothes darker. If you have a lot of whites though, this is an excellent opportunity to introduce some more vibrant colors into your wardrobe.
Dyeing works best on natural fabrics like cotton, wool, or silk. Synthetic fabrics, such as polyester, may require a special dye blend. Make sure clothes are clean before you begin the dyeing process.
Make sure to soak the clothes you wish to dye in a fixative first. Fixatives ensure your clothes can better soak up the dye. You can purchase one from the store or use natural resources as a fixative if you're using natural products (beets, berries, etc.) for the dye.
If you are using beets, berries, spices or other such natural dye sources, you'll need to simmer and strain them to cleanly obtain the dye. Otherwise, simply simmer your clothes in the dye bath for 30-60 minutes (depending on how vivid you want the color) and rinse off any excess dye from the fabric in cold water.
Make sure to air dry your dyed fabrics so that the fresh dye can continue to soak in. This is a great way to refresh the color of your clothes based on the season or to tackle any yellowing whites.
Breathing life back into your wardrobe is oftentimes a matter of rediscovering your personality and venturing out into new trends. In fact, updating your existing wardrobe often inspires you to be even more adventurous than buying new clothes would. So enjoy your newfound freedom, and wear it with pride.
Ellie Batchiyska is a writer for Leather World Tech, a top retailer of aniline leather dye and leather repair kits for all kinds of products – from car seats to purses.