Master's or DIY dresses are an ideal solution for those who want to highlight their personal vision of style and fashion, enlighten and make personal life more colorful. Making your own dress has many advantages over purchase from the outlet:
You might be sure that the dress will fit ideally and look amazing on your figure. 

The probability of meeting a friend or a colleague in the same dress equals zero. 

It is you who decides how the final cut will look, the number and the quality of accessories, the print, and the color. 

The dress might be of higher quality in general.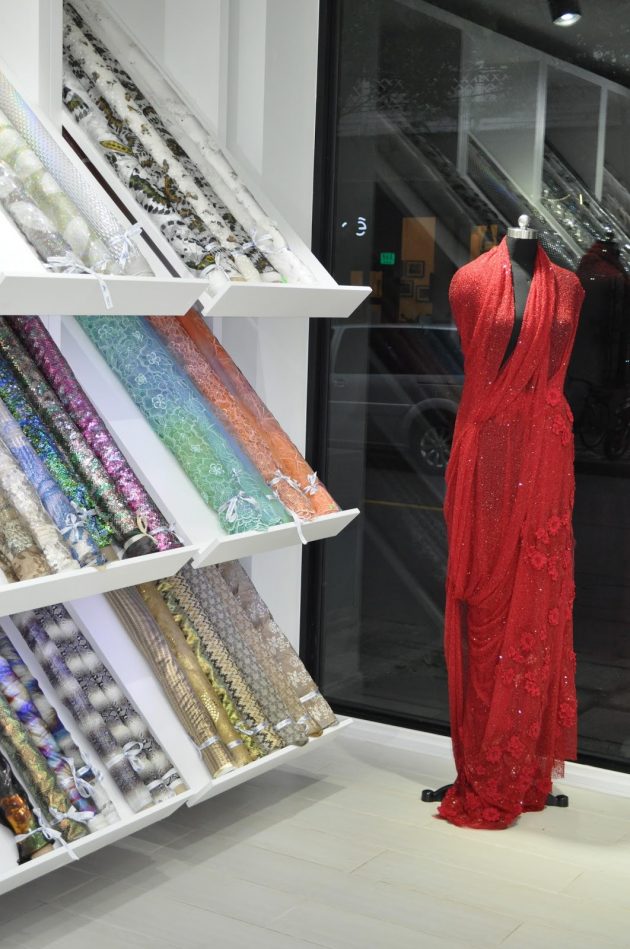 No matter what reason you have got to make a dress by yourself or with the help of a master, you need to pass through a very complicated but necessary process. You need to know how to choose the proper fabric. Your choice will depend on the cut of a dress and its purpose. 
The Purpose of Your Dress
It is the most crucial factor that affects your final choice. A mistake here can lead to an uncomfortable dress that will be thrown away after the first wear. Here is what you need to know:
A summer dress does not imply any "heavy" fabrics. You need to take a look at breathing light cotton, silk, satin, or flax. Natural materials allow your body to breathe and highlight the light summer atmosphere. 
For other seasons, you can think about thicker kinds of fabric: jercey, viscose, thick silk, and other fabrics with two layers, which ensure excellent form preservation. 
Look for elegant and strict fabrics if you are going to make a dress for the office. Give your perforations to the suit wool or silk. Different mixed materials will be excellent as well. Flax and light cotton will be perfect for the office dress for the summer season. (find out more at https://tissura.com/catalog/women/wool)
Cocktail dresses should be made of effective and bright fabrics that consist of lurex and Lycra. 
The next important step is choosing a cut of a dress. 
The Cut of Your Dress
The more straightforward cut of a dress means the more exciting fabric to be chosen. You can choose from lace, guipure, velvet, or gabardine with a small ornament or print. If you do not know what fabric to arrange for a dress with a complicated silhouette, better pick something soft that can shape into any form. 
If the cut implies drapery, hangings, or gathers, we recommend choosing thin taffeta, crepe de Chine, or chiffon. Skin-tight dresses require fabrics that contain elastane. Pencil dresses are usually made of knitted fabric, thick flax, or cotton. 
Coloring and Ornaments
Here your imagination is not limited. Just consider a couple of things: 
Office dresses require one color that belongs to the neutral range of shades;

Everyday dresses look good with different prints;

Pockets and other accessories look better with a one-colored fabric;

Summer dresses are good when you apply several materials with bright colors;

Cocktail or an evening dress will look good when they are made from something glittering. 
What Fabrics Are Good for Evening Dresses?
An evening dress must look sophisticated and respectable. Here are the best fabric choices:
Silk is soft and glittering. It is ideal for feminine models. 

Lace will highlight the advantages of your figure.

Brocade with silver or golden decoration will do good for a structured dress.

Satin is a universal and never losing variant. It looks good with other fabrics.

Velvet will make everybody notice you with its noble glittering. 
Now you know everything about choosing a proper fabric for your dress. Recall this post when you start your new fashionable experiment.